A four-star paradise at the far end of the outer archipelago!
Scenic camping paradise located in Östergötland by Gryt's fantastic archipelago. We are open for camping all year round, during the summer season we keep the reception and restaurant open.
Book your electric place with us. We have reinforced electric pitches for motorhomes.
At KustCamp Ekön you find 13 cottages of different models and sizes.
With us, it is possible to camp all year around. Here you will find our opening hours.
Read more about what you find in our modern and clean service house.
Take a look at our camping map.
During the summer and our high season we have our restaurant open.
With the east coast's best location at the far end of the fairway, just 20 minutes from the E22, you will find one of the east coast's best campsites. With us, you have access to fresh toilets and showers that are heated by our own solar energy and renewable fuels. The spacious guest kitchen has panoramic windows facing the water. Take the opportunity to enjoy the view while the restaurant dishwashers take care of the dishes in just a few minutes at no extra cost.
Most places have a view of the sea, and yet you can wander in nature on the rocks along the sea, thanks to the fact that the campsite is located on a peninsula. We offer reinforced places for motorhomes.
Ekön is a nature reserve perfect for the active outdoor life. In addition to the fantastic bathing rocks, the pebble-stone beach and the jetty for the children, a ball field, playgrounds, mini golf, hiking trails, and a lookout tower with fantastic archipelago views there are lots of space in nature. There is also a Frisbee golf course in beautiful nature.
At the camping area you find Ostkustenskajk that rent out kayaks, bikes and a lot more for a perfect outdoor experience.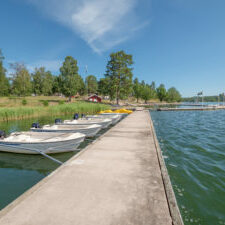 Bring your swimwear or fishing rod and find your own cob. Rent a Crescent 434 motorboats with the control panel and 15 HP from us.
Take a day to visit the animals on the zoo at Kolmården. Meet up to 60 different species.
Want to know more about what is available at KustCamp Ekön?